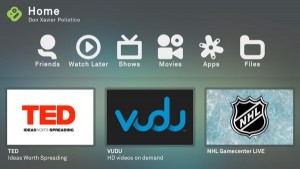 Having a system here in the house that runs Boxee as a front end has been wonderful, but the one thing every user of Boxee will say is that it needs to be updated. Well, the time has come – this fall!
What is Boxee, you ask? Well it's this pretty awesome Media-Center that was originally made for Linux/Mac/Windows, then was put onto it's own hardware called the "Boxee Box." You can check it out at http://boxee.tv/.
Good news for PC/Mac/Linux users – we are working to update the downloadable software version of Boxee and hope to have builds available this fall so you can enjoy the updated browser, improved playback, and lots more content that are currently available on the Boxee Box.

We know Boxee users on computers have been frustrated with the long wait and we want to be open with you about our priorities, growth, and the future of Boxee.
Read the rest of the post at the Boxee Blog.
UPDATE: The update hasn't come yet, but I've been told by one of the people on their support team that the update is still going to be released by the end of the year.